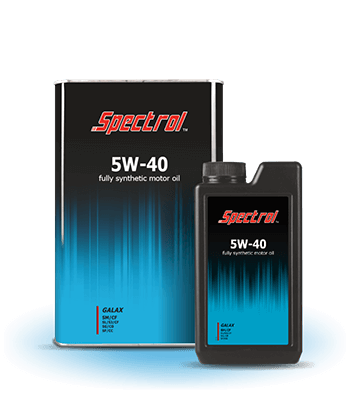 Spectrol Galax 5W-40
Synthetic motor oil
Packaging – 1l / 4l / 5l
TO BUY THIS PRODUCT, PLEASE CONTACT US
| Indicator name |  Spectrol GALAX 5W-40 |
| --- | --- |
| Density at 200C conditions | 0,856 g / cm3 |
| Kinematic viscosity at 1000C conditions | 14.27 mm2 / s |
| Viscosity index | |
| Flash point | 224 օC |
| Cooling (condensation) temperature | -37 օC |
| Acid No. | 6.3 mg KOH/g |
| Cinderella Sulfate | 1,01 % |
The fully synthetic Spectrol GALAX 5W-40 engine oil is used in modern high-power direct injection, parasitizing, in gasoline or diesel engines with one or two turbines. Suitable for heavy duty and high speed applications. Provides high engine performance, noise reduction and fuel economy.
Advantages
the unique formula provides reliable engine protection at high temperatures and promotes rapid engine start at low temperatures,
exceeds API requirements for oil start characteristics, viscosity index, engine wear protection, service life,
increases engine power by reducing hydrodynamic losses,
increases oil change time.
Meets the requirements
SAE 5W-40 / API SM/CF /ACEA AT/BY/B4-04, MB 229.5, BMW LL-98, VW 502 00/505 00